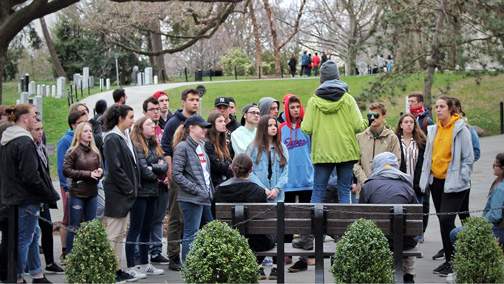 Looking for the coolest job?
The coolest job for university students! If you love to travel, if the thought of leading a group of students energizes you and you have a unique personality, this job is for you!
ClasseTrotteur travels to Washington, New York, Chicago, California, Boston, Orlando, Toronto, Ottawa, Quebec, Europe, and more !
Your Role and Responsabilities
• Give a unique experience to the students;
• Take charge of a group and ensure smooth travel and safety for everybody at all times;
• Provide historical and anecdotal information to students, you are the source of information;
• Responsible for representing ClasseTrotteur with customers and service providers;
Prerequisites
• Availability for theoretical training (in office) and practical (on-site travel);
• An explosive personality, a sense of diplomacy, strong interpersonal skills;
• Leadership, sens of direction, resourcefulness
• Availability to work from March to June;
• Spoken languages: French and / or English. Bilingualism an asset.
17 rue Webster
Saint-Lambert,
Québec J4P 1W9